Our Holy Patrons
The school, consecrated to the Sacred Heart of Jesus, is placed under the maternal protection of Our Lady of Mount Carmel
Our Lady of Mount Carmel
If we have chosen to place our school under the patronage of Our Lady of Mount Carmel, it is to take advantage of all the graces that she gives to her spiritual children.
Our Lady is the mother of every Christian. Invoked particularly by this august title of Our Lady of Mount Carmel, she is at the origin of the Carmelite order and, through St. Simon Stock, she promised the reward of eternal life to all who would wear her holy scapular. It was the same beautiful woman who appeared to St. Bernadette for the last time in the grotto of Lourdes, as well as to the three children of Fatima in the apparation of October 13, 1917 during the miracle of the sun. It was she too, ever the same Virigin, our Mother, who opened her eyes in front of Blessed Frederique and two other eye-witnesses at Cap-de-la-Madeleine, Quebec.
To place ourselves under her protection is to be one with millions of men and women who make up the Carmelite spiritual family, who wear today the Brown Scapular of Our Lady of Mount Carmel, a religious habit which is the source of many miracles for those who wear it. Thus, it is, as Blessed John-Paul II said, "so that we might express our desire to model our lives on the example of Mary, mother, patron, sister, the Virgin most holy, welcoming with a purified heart, the Word of God and dedicating ourselves with zeal to the service of our brothers." Therefore, do we take Mary as our model to imitate, as mistress to serve and as mother to love.
Let us be assured that, by our freely choosing to be children of Mary, She will protect our school, sanctify our members and provide always for its growth and mission to christianize the youth.
Our Lady of Mount Carmel, pray for us!
For further information, read this historical article on Our Lady of Mount Carmel
The Sacred Heart of Jesus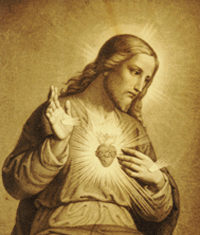 Since 2012, the school has been consecrated to the Sacred Heart of Jesus. What better than to place ourselves directly under the protection of our Divine Saviour, by avowing a devotion to the Sacred Heart who "has so much loved man" as He, Himself revealed to St. Marguerite-Mary Alacoque.
Recall now the promises made by Our Lord to St. Marguertie-Mary on behalf of those who practice a devotion to His Sacred Heart:
"I will give them all the graces necessary in their state of life."
"I will establish peace in their homes."
"I will comfort them in all their afflictions."
"I will be their secure refuge during life, and above all, in death."
"I will bestow abundant blessings upon all their undertakings."
"Sinners will find in my Heart the source and infinite ocean of mercy."
"Lukewarm souls shall become fervent."
"Fervent souls shall quickly mount to high perfection."
"I will bless every place in which an image of my Heart is exposed and honored."
"I will give to priests the gift of touching the most hardened hearts."
"Those who shall promote this devotion shall have their names written in my Heart."
"I promise you in the excessive mercy of my Heart that my all-powerful love will grant to all those who receive Holy Communion on the First Fridays in nine consecutive months the grace of final perseverance; they shall not die in my disgrace, nor without receiving their sacraments. My divine Heart shall be their safe refuge in this last moment."
It is, therefore, with a complete confidence in Our Lord that we lay this holy work which is l'École Notre-Dame du Mont Carmel before the Sacred Heart so that He might bless and protect it.
Most Sacred Heart of Jesus, have mercy on us!
Most Sacred Heart of Jesus, ever be our King!